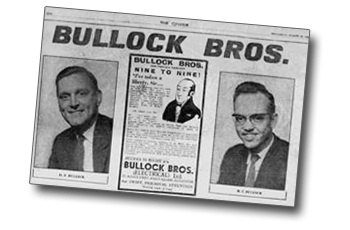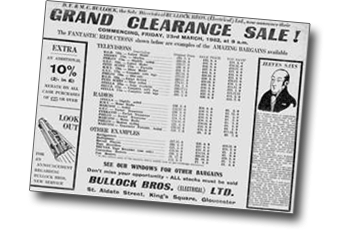 Bullock Bros Electronics Company History
Bullock Bros. was founded in 1958 by Donald Bullock and operated from 6 Russell Street, Gloucester. The shop opened from 9:00am to 9:00pm 6 days a week, all repairs were guaranteed, a first for Gloucester.
The business grew rapidly and in 1960 moved to bigger and better premises at 27 St. Aldate Street, Gloucester (now Kings Square) and business boomed, a shop window in the town centre improved sales and a reputation for expert repairs soon brought repair work in from all over the county.
The sales and repair departments became so busy that another shop was opened. The new shop in Barton Street also became a success.
In 1963 new premises were located and the business moved to 29 Hucclecote Road, Gloucester. (These premises are now David Bourne Upholsterers).
In 1968 we left the shop in Hucclecote Road and the business settled into the large garage complex at our private house at 82 Church Road, Longlevens, Gloucester.
The business stayed at these premises for 27 years.
In 1994 we moved to new premises at 132 Cheltenham Road, Longlevens, Gloucester. We expanded the business and eventually outgrew the location.
In 2009 the business moved to large modern premises on the Innsworth Technology Park.
Our current premises are located in Kestrel Parade, Innsworth.
"Bullock Bros. Electronics" are the oldest independent repair shop in Gloucestershire, a fact reported by BBC Radio. Despite being the oldest we are still leading the way in Gloucester.